Who here remembers Obama's drone gift to Iran, for the purpose of Iran reverse engineering it?  I sure do!  It was staged as a fake "oopsies" drone crash as cover, but not really.  Oh, it was all such a joke and game, by Obama, snickerer in chief.
Iran Shows Alleged U.S. Stealth Drone on TV (ABCNews: archived, screenshot)
U.S. military sources confirmed stealth RQ-170 crash-landed in Iran.
ByLEE FERRAN and LUIS MARTINEZ, December 08, 2011, 11:38 AM
Obama Rejected Numerous Proposals to Retrieve Lost U.S. Drone: Officials Confirm Authenticity of Iranian TV Images Showing Drone (GellerReport: link, screenshot, citing FoxNews: archived, screenshot) By Pamela Geller – on December 8, 2011
Obama: Hey Iran, Can We Get Our Drone Back?  (ABCNews: archived, screenshot)
Iran TV: Military won't turn over drone, plans to "reverse engineer" tech.
ByLEE FERRAN, December 12, 2011, 1:45 PM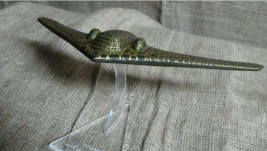 Iranian company wants to send TOY drone to Obama (CNN: archived, screenshot)
Shirzad Bozorgmehr, CNN, Updated 5:34 AM EST, Wed January 18, 2012
So I knew this day would come:
White House: Iran set to deliver armed drones to Russia (AP: archived, screenshot)
ZEKE MILLER and JOSH BOAK, July 11, 2022
And I don't seem to be the only one who's noticed the connection between Obama's drone gift to Iran in 2011, and Iran's sale of fleets of reverse engineered drones to Russia today..
What Drones Is Iran Supplying To Russia And What Impact Will They Have In Ukraine? (Updated – Imagery Confirms Drone Types (Forbes: archived, screenshot)
David Hambling, Jul 15, 2022,08:53am EDT
Of course NYC is putting out ridiculous nukie duck and cover PSAs.  They got the heads up.  9/11 was not a one-off.
Makes me nauseous.